2017 RO_KA_TECH
RO_KA_TECH 2017
RO-KA-TECH 2017 ― is a success for I.S.T.!

From May 10 -12, I.S.T. presented itself with all its product categories and new products to interested visitors in Kassel.
This trade fair has established itself increasingly over the last years, is internationally positioned and has become an established name amongst visitors both inland and abroad.
The key thematic areas were visually displayed in a comprehensive way at the I.S.T. trade fair stand in Hall 1. The new products were boldly presented as exhibits, the stand concept as an island stand had proven itself in the past and was used this year as well.
The Power CUTTER 200 E was the milling robot that received the most attention from visitors, with its many unique features that were examined and discussed from all angles.
The milling robot Power CUTTER 200 V2 and Power CUTTER 150 V2 were also set-up featuring the many detail improvements that were added in the 2nd device generation, which were also the subject of intensive dialog with trade fair visitors.
UV-systems for curing UV-light reactive pipe liners impregnated with polyester resin, was a highlight topic for I.S.T. at the trade fair. In addition to the established Power LIGHT UV-Technology, the nUVision UV-Technology also was a winner with its unique product features and advantages. This innovative technology was received very positively by trade fair visitors - in part with great amazement at everything that is now technically possible.
Thanks to the direct proximity of the hall stand to the weather-protected outdoor stand, visitors were able to experience some of I.S.T.'s product highlights in action just a few steps away:
The calibration and automated start-up of previously saved connection positions of lateral pipes was presented live using the Power CUTTER 200, as well as the vehicle outfitted with a mobile Power CUTTER unit as an all-round rack with all necessary peripheral equipment to operate the Power CUTTER 150 milling robot and/or the Power CUTTER 200 incl. a desk operating panel.
Another highlight at the I.S.T. stand was the presentation of the innovative, revolutionary ELASTOTEC SPRAY SYSTEM for lining pipes made from all conventional materials from DN 32 to DN 200 using reaction resin: Fast - clean - long-lasting - cost-efficient.
The product presentations were received exceptionally well during the course of the entire trade fair, generating many interesting conversations with visitors.
The amount and quality of dialog and contacts, both with familiar contact partners and companies as well as new contacts, was once again higher in Kassel than in the past and very satisfactory.
Numerous orders and/or contracts were concluded during the trade fair, and set in motion right after the event.
This was also applicable for the trade fair follow-up in order to satisfy all customer inquiries and wishes in a prompt manner. The large number of promising conversations and inquiries are reflected in the numerous offers with specific customer requirements.
I.S.T.'s management would like to warmly thank all its guests once again for their visit, the interest they showed and for the pleasant conversations that were had.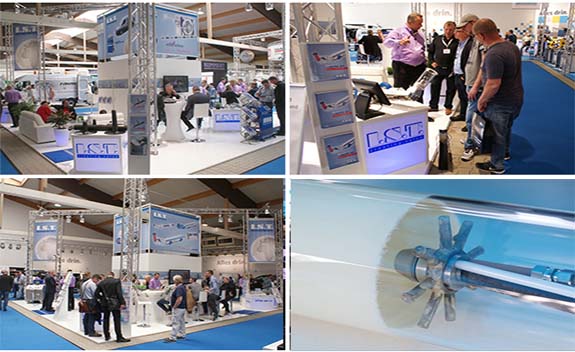 New demonstration vehicle for Scandinavia now in action

Due to the large demand and the success of the demonstration vehicle in Germany, which has been active for a long while now, such a vehicle has now been provided for the Danish I.S.T. subsidiary, I.S.T. Skandinavia A/S.
The vehicle has been designed to be used variably for different product systems, such as short liners, pipe liners, cap technology, UV-systems, spray technology and robot systems, to be able to demonstrate the advantages of our product systems under real conditions.
Currently, the demonstration vehicle is equipped with robot technology, incl. crane, desk operating panel and a frame rack for provision technology for operating the robot - outfitted with plug connections and holders for quick installation and removal.
It has been received very well and Scandinavian customers are making active use of this service.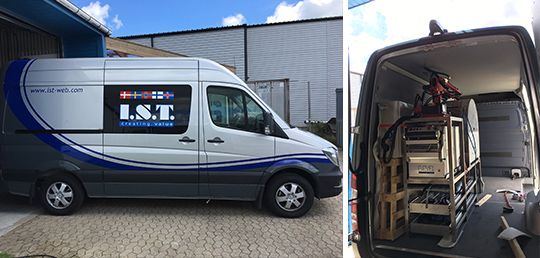 Certification from our Australian partner Pipe Core Pty Ltd

In June 2017, our Australian Partner Pipe Core Pty Ltd from the company Australian Certification Services Pty Ltd, were issued a license for using the corresponding Water Mark - Level 2 - in conjunction with certificate number 23295, valid for a period of three years.
This classification is only received by corresponding companies that satisfy the specified criteria - or whose products satisfy said criteria - and that are listed accordingly.
In this case, the ThermoLiner DN 100 to DN 300 with 5 mm Wall thickness, the BendiLiner up to DN 150 with 3 mm wall thickness and the FlexLiner DN 100 to DN 300 with 5 mm are listed for the rehabilitation of existing, pressureless pipes using on-site curing pipe liners (CIPP) from the EasyLiner program.
The sale of the I.S.T. products on the Australian market is through Pipe Core Pty Ltd.
It is worth highlighting that the I.S.T. GmbH is the first manufacturer ever to have pipe liners that are approved for the Australian market that extensively satisfy the specified standards.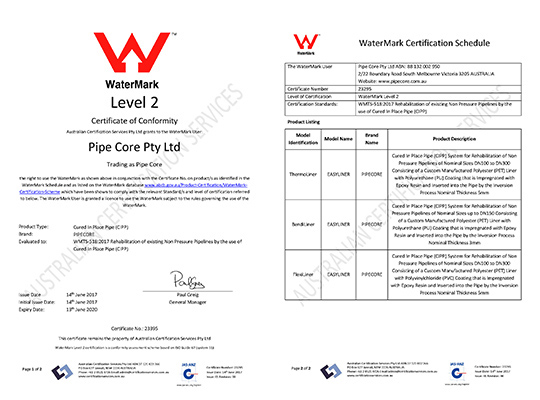 "Complete package" robot and UV-system sales to Portugal

The company Agriservir, with headquarters in northern Portugal, has been working with I.S.T. for many years.
The company, founded in 1993, has a broadly established portfolio, plus a very professional standard and covers very many areas in the field of environmental protection and wastewater facilities. They rely on high-grade, effective and technically innovative equipment to achieve the best possible results with a high standard when it comes to result quality.
In March of this year, a Power CUTTER 150 and a Power CUTTER 200 with all the mobile peripheral equipment were supplied to the client and used for operating milling robots.
In addition, the client was equipped with a complete Power LIGHT UV-system, consisting of a 1200 Professional Control Cabinet with 9 x 650 watts, a UV drum 150 with 200 meters of cable and a Light Chain Standard Plus with total output of 5850 watts for pipes with dimensions DN 150 to DN 600.
In the 26th calendar week, a four-day training took place at I.S.T. in Bochum to provide practical training to staff at the processing company and to transfer detailed knowledge from practitioners to practitioners.
In Portugal, a vehicle will be upgraded on-site per site with the robot technology mentioned above and another vehicle will be upgraded with the UV-technology described.
After completion of the vehicle upgrades there will be a subsequent training in Portugal at a construction site with I.S.T. technicians from Bochum, to fully exhaust the potential of the system under real construction conditions and to provide assistance to achieve the best possible results.
This is active service and proximity to the customer - the fundamental components of our company philosophy.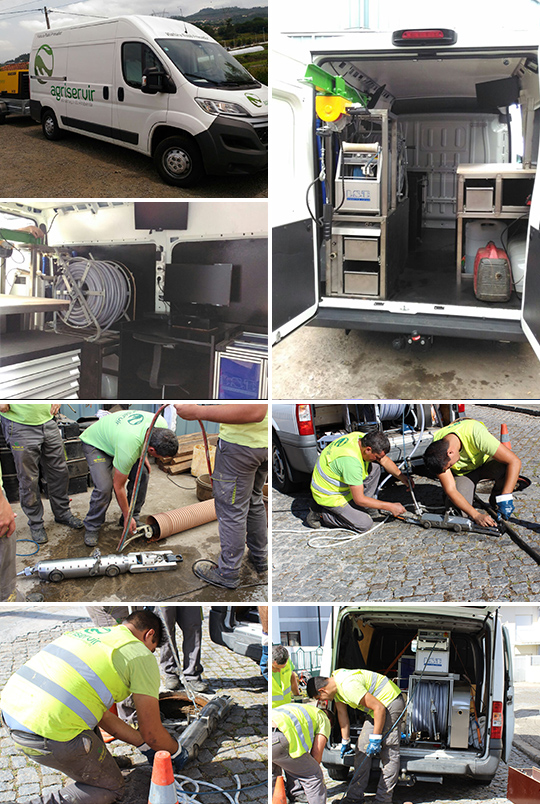 New employees reinforce the I.S.T. team

Sustainable growth requires support - also with regard to employees, who perform the constantly increasing tasks and who contribute significantly to the long-term success of the company.
Alina Sondermann (24) successfully completed her training as an Industrial Clerk at I.S.T. at the start of July 2017. Congratulations, Alina, from the entire I.S.T. team!
Thanks to her excellent achievements she will be taken on as an employee and will be active as a Sales Assistant for various sales areas.
In addition, Miss Sondermann is the central interface for our American subsidiary I.S.T. Services Inc. and our sales partner companies in he USA.
Her in-house know-how and product knowledge, as well as her excellent English language skills, will - in addition to the theoretical knowledge - surely benefit her greatly in practice and we look forward to her energetic support.
Florian Wiese (24), qualified Specialist for Pipe, Sewage and Industrial Service, will assist the workshop team particularly in presentations and application tasks in the area of robotics, Top Hat cap technology and UV-systems.
We wish all employees a lot of fun and success with their future challenges!
His extensive experience as an operator in sewer cleaning, inspection and rehabilitation will certainly be a great asset here and the basis for learning the ropes quickly.
At the moment, in addition to his professional activity at I.S.T., Mr. Wiese is also attending a master school with the goal of receiving a Master Craftsman's Certificate and becoming a qualified foreman for pipe and sewage technology in April 2018.